There have been many strides in the field of orthodontics in the past few years and this has made the choices for getting straight teeth much more complicated. As a result, the decision on which method to choose is simply not an easy one.
* Consideration between braces vs Invisalign carries a lot of questions
* The best treatment is what you aim for whether it be Invisalign or braces
* Whatever the cost you want to ensure you make the correct choice the first time
Deciding on Adult Braces for Yourself
When you are trying to make this important decision, it is best to first consult your Las Vegas orthodontist as he or she will be the one to do the assessment that will determine which treatment would be better for your teeth. Your dental professional will advise you on the severity of your condition and depending on the length of time you are willing to invest in correcting the situation, the options of braces vs Invisalign will be discussed with you. Adult braces are thought to correct issues of bite and tooth gaps at a much faster rate than Invisalign.
* Adult braces will be affixed to the teeth by your Las Vegas orthodontist
* Severity of the condition will help determine between braces vs Invisalign
* Adult braces can correct crooked teeth, gaps and bite problems faster
Deciding on Invisalign for Your Teeth
There are other factors to consider when deciding on Invisalign. While braces may work faster there are some pit falls in using them. The metal adult braces can give the sense of having a metal mouth and even though using invisible braces can solve that problem, those invisible ones can be stained by dark foods and drink as well as the use of tobacco products.
* Invisalign is a great option for those who may not have severely crooked teeth
* Adults who want to avoid the metal mouth look can choose Invisalign
* Invisalign are affordable braces that can replace clear braces which then to be more expensive
Making that Final Call
Other factors that will help you in making your decision have to do with examining the pros an cons of each method. The ability of the braces to be fixed or removable may be important depending on your situation or personal preferences. Another factor that could be of importance to you is the fact that braces are set to fit any mouth, while the Invisalign trays would have to be replaced every 2 to 3 weeks.
* The cost for each is a deciding factor to be discussed with your medical practitioner
* Braces are used for a longer period of time than Invisalign
* Braces are usually easier to take care of during the time period they are worn
At Super Smile Orthodontics, we serve the patients in and round the Las Vegas, NV area. Visit us at our website or call our offices today.
In an effort to give people the perfect smile without breaking the bank, we're offering a special promotion on Invisalign® for only $2997! Invisalign® If you're in the Centennial Hills, Las Vegas area, give Dr. Chamberlain a call! SuperSmile Orthodontics is located near the Montecito Marketplace.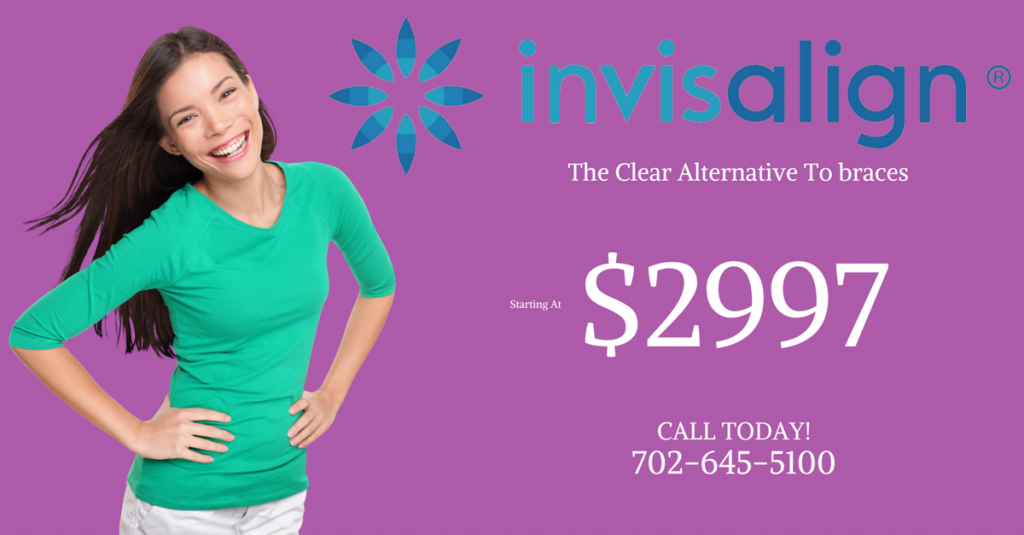 Leave a Reply