Thanksgiving is just days away, GoBbLe GoBbLe. That means spending time with family, sleeping in and eating way too much! All of us here at SuperSmile Orthodontics plan on taking a moment to tell the people that mean the most to us, how grateful we are to have them in our lives. So unlike Halloween where braces approved foods are hard to find and appliance breaking goodies are hard to resist. Eat up my friends! Pecan pie may be the only treat you may want to eat carefully. Unless you're a lucky Invisalign patient and can remove your tays to eat whatever you want. Please allow us to share some of our favorite Thanksgiving recipes with you.
[caption id="attachment_348" align="aligncenter" width="1275" caption="Thanksgiving Poem"]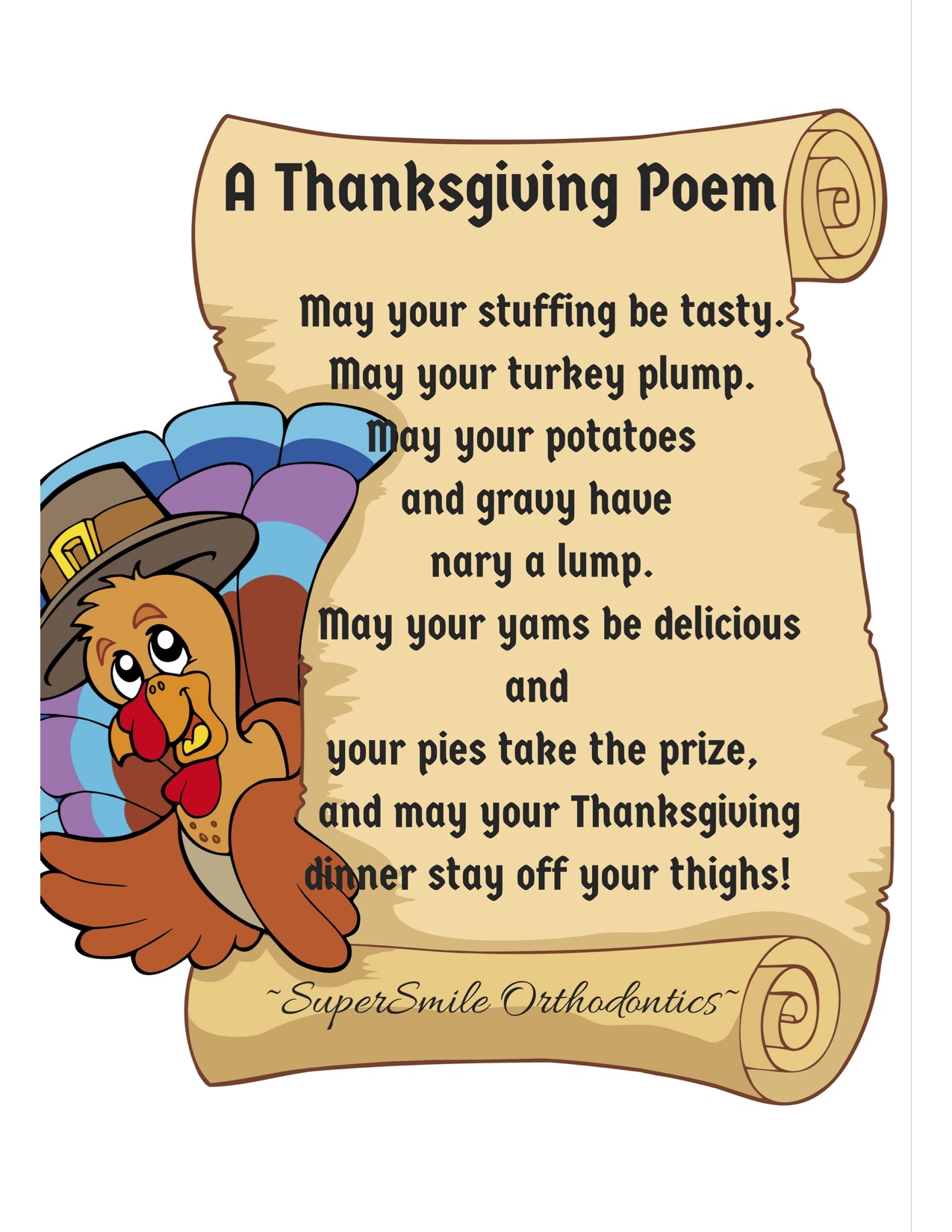 [/caption]
Dr. Chamberlain- candied sweet potatoes! He especially loves how we take something healthy and make it decadently delicious.
Angel our Treatment Coordinator- Said it would not be Thanksgiving without her moms southern cornbread stuffing! Their family uses fresh herbs when making their top secret recipe:)
Rachelle our Financial Coordinator- fresh spiced cider! She said it makes the house smell cozy. No matter how full you may be there is always room for cider.
Natasha our Orthodontic Assistant & Lab Manager- perfect juicy turkey! It's the main attraction, right?
Michelle our Orthodontic Assistant & Efficiency Expert- all things pumpkin spice! Can we say pumpkin pie? Starbucks drinks?
Kirstin our Scheduling Coordinator- roasted brussel sprouts! Its fancy and delicious, bon appetite.
Leave a Reply