November 23rd, 2015
While at a social gathering not too long ago, a friend of mine told me his daughter might need to get braces. Naturally, he asked me how long she was going to need them, what kind she should get, and, of course, how much would it cost and will my insurance cover them?
These were all very important questions. I told him to schedule a FREE consultation with us, so I can answer him to the best of my ability.
Many people, like my friend's daughter are skeptical when it comes to getting braces for numerous reasons such as not being able to eat certain foods, the discomfort that can come from metal, and the overall cost.  I started thinking about how SuperSmile Orthodontics could curb these reservations, and it hit me!
In an effort to give people in Las Vegas, Nevada the perfect smile without breaking the bank, we're offering a special promotion on Invisalign® for only $2997! Invisalign® is a great alternative to regular braces, since it requires no metal wires, and you can take them out every time you eat.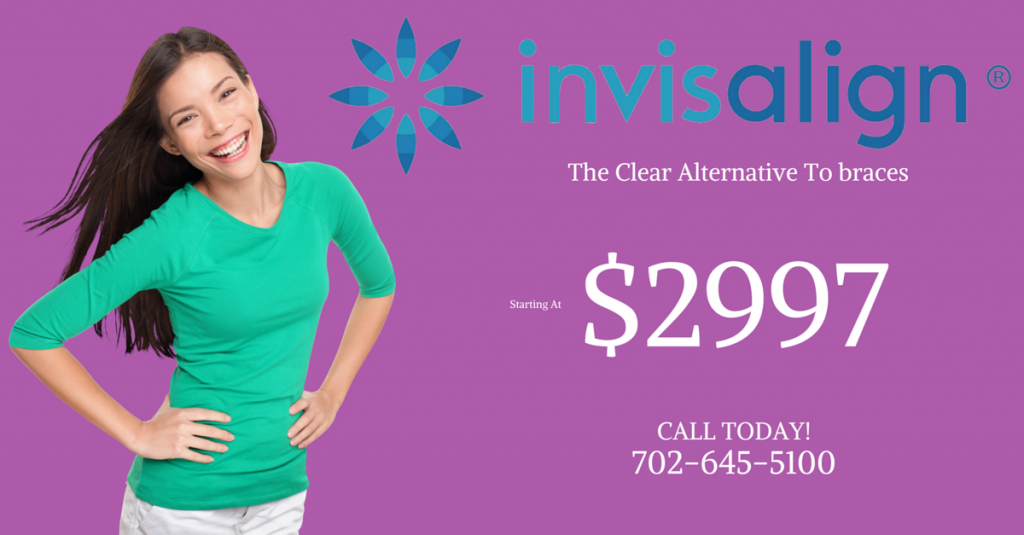 These braces can cost anywhere from $5,000-8,000, so don't miss out on this great deal. We know braces can be a scary thing for both the receiver and the person paying for them. In the end, though, a nice, straight smile is totally worth it!
Advantages of Invisalign® over traditional braces
#1. Appearance - 
Invisalign® Clear Braces Look Better
Invisalign® clear braces are barely noticeable.  They look very much as though the person wearing them is not wearing braces at all.  They are decidedly more attractive than metal braces. You never have to worry about being called a "brace face"!
#2. Comfort - 
Clear Braces Can Be Removed When Necessary
Invisalign® clear braces are removable.  If, for any reason, the wearer of teeth aligners wishes to remove them for brief periods of time (to eat or drink), he or she may easily do so.
#3. Safety - 
Invisalign® Clear Braces Reduce Damage to Teeth and Gums
Clear braces are smooth and comfortable. They do not include any sharp edges or protruding edges or bits. Invisalign reduces damage normally caused by wearing braces, including gum disease and cavities.
#4. Duration of Treatment - 
Invisalign® Clear Braces Straighten Teeth Faster
Invisalign® can take from only one year, to a year and a half to work its magic and straighten your teeth.
#5. Knowing What to Expect - 
There are No Surprises with Invisalign® Clear Braces
In considering Invisalign®, dental patients undergo treatment planning that is fully computerized.  Therefore, they know exactly what to expect and how long they will need the braces before they begin wearing them.
Overall, Invisalign® offers distinct advantages. They are more comfortable than metal braces, pose fewer risks to teeth and gums,  and provide beautiful smiles much faster.
Anyone considering Invisalign® should book a consultation with Super Smile Orthodontics to determine if he or she is a good candidate to wear them.
Dr. Chamberlain is committed to providing his patients with the newest, most effectiveorthodontic treatments and technology.
Since completing his formal education, he has sought state-of-the-art methods and procedures through the Roth Williams International Society of Orthodontics, the Kois Center for the Advancement of Dentistry, Invisalign® Institute, Dentox Inc., the Academy of L.D.S. Dentists, and local and national orthodontic companies and organizations. In addition, he has received training in migraines, TMJ and clenching management, Botox® administration, and facial aesthetics. He is also a certified provider of Invisalign. If you're in the Centennial Hills, Las Vegas area, give Dr. Chamberlain a call! SuperSmile Orthodontics is located near the Montecito Marketplace.