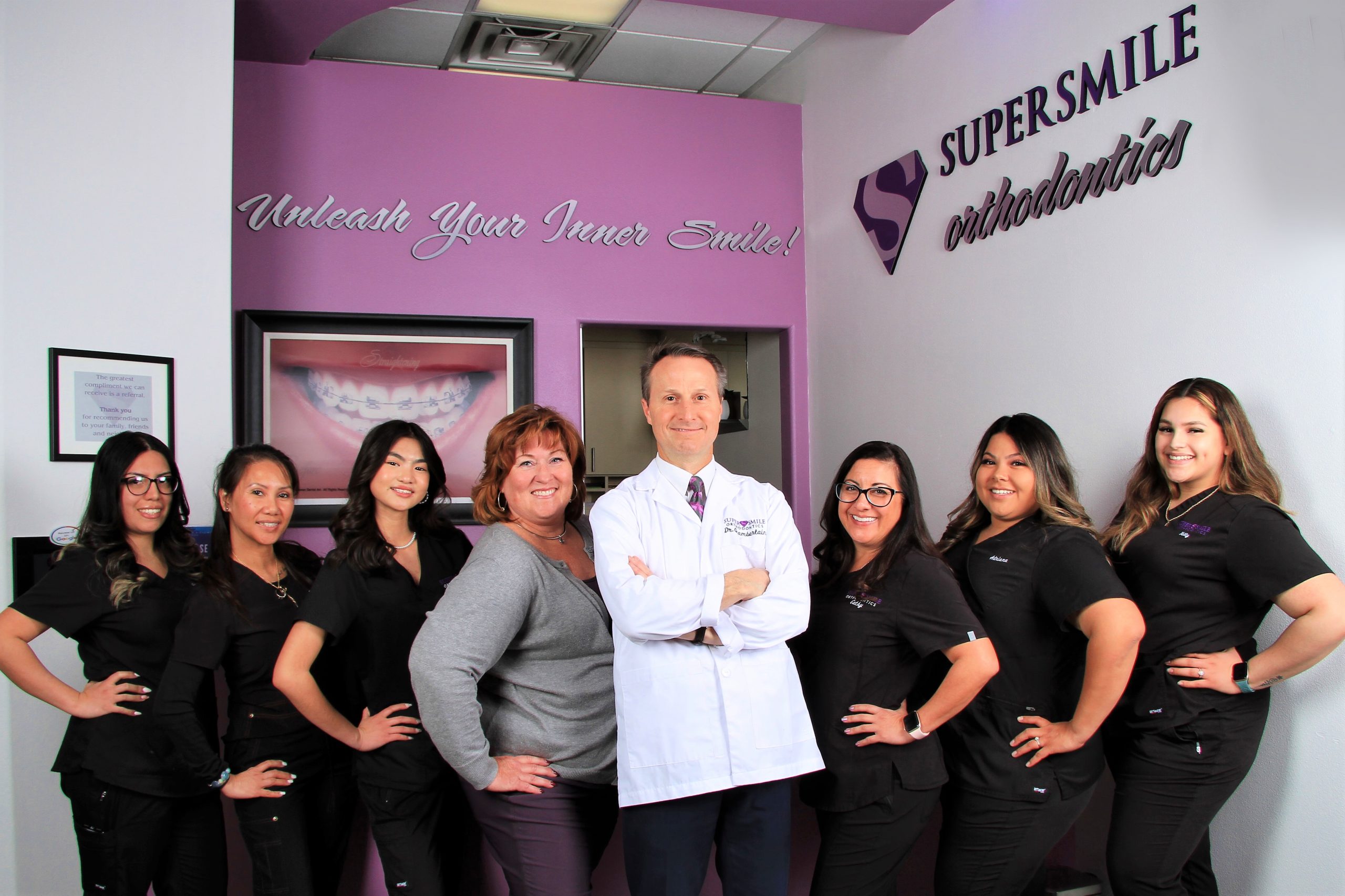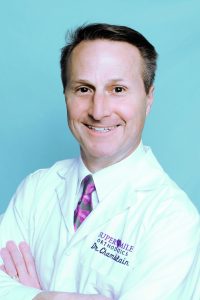 Brian Chamberlain, DDS, MDS
Dr. Chamberlain received his DDS from the University of California, San Francisco in 1994 and received his MDS from the University of Connecticut in 1997. He received his undergraduate degree from Brigham Young University. During his college years, he served a mission in France for The Church of Jesus Christ of Latter-day Saints and took advantage of any opportunity he had to travel and has visited five out of seven continents and both sides of the equator.
Dr. Chamberlain continues to further his education so he can offer his patients the best dental technology out there. He has received advanced training from the Roth Williams International Society of Orthodontists, Kois Center for the Advancement of Dentistry, the Invisalign® Institute, Dentox, Inc. and has training in migraine, TMJ disorder and clenching management. He is a member of the American Dental Association®, American Association of Orthodontists, Nevada Dental Association, Southern Nevada Dental Society and the Ensign Academy of Dentistry.
Dr. Chamberlain has been practicing in Las Vegas for 25 years and his goal as a dentist is to unleash smiles! He is passionate about what makes smiles and faces look good and stay looking good.
He has an amazing wife and five smart, beautiful and talented children, aged 21 down to 11 years old. In his free time, he enjoys creating and fixing things, traveling, meeting and talking to people, participating in his religion and cars!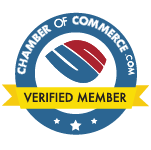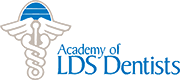 Meet Our Team
Dr. Brian Chamberlain is proud to present our orthodontic team! Empathetic and friendly, our team is passionate about providing exceptional orthodontic care in Las Vegas, Nevada, and uses their experience in the field to provide competent, attentive service. We are always happy to get to know our patients, and we have team members who speak Spanish and Tagalog. Our orthodontist also speaks French! Learn more about us below and call SuperSmile Orthodontics at 702-645-5100 for a visit!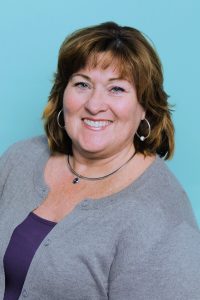 Jana
Practice Administrator
Jana became a part of our practice in April 2022. She is a physical therapist and former health care leader and has a master's in health care administration from Western Governors University, making for an unconventional but excellent fit. Jana loves working with this team and loves how Dr. Chamberlain is so passionate about this work and his patients! She contributes to our office by supporting our doctor and team so they can provide amazing patient experiences, supporting our patients and families by helping them navigate their orthodontic experience, and being a liaison with outside customers.
Jana is married and has four adult children and four grandchildren and more on the way. In her free time, she enjoys traveling, crafting and visiting the grandkids.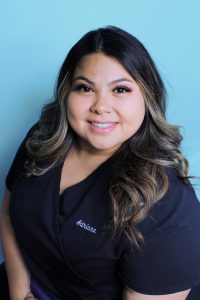 Adriana
Billing & Credentialing Coordinator
We have had Adriana as part of our practice since January 2018. She graduated from the College of Southern Nevada in 2023 with an associate degree in elementary education. Adriana loves that Dr. Chamberlain is very flexible with her schedule so she is able to go to work, go to school and be a full-time mom all at once. She has been in the dental field for over 17 years and absolutely loves her patients and enjoys getting to meet new ones every day. Adriana enjoys helping her patients whenever they need her.
She is a mom of three, and in her free time, she enjoys cooking and spending every minute with her children. Adriana also loves doing family vacations every year.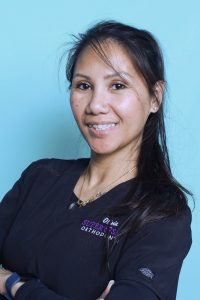 Olivia
Clinical Coordinator
We were happy to have Olivia join us in January 2023. She graduated in 1999 from Southeast Del Amo Vocational School in California and has all her licenses as a registered dental assistant. She loves being able to help train and share her knowledge with everyone, and she appreciates how friendly and very nice our team is. She helps us succeed by facilitating great teamwork, encouraging patient compliance with education and sharing her passion for orthodontics.
Olivia has four children: three boys and one girl. She lived in California all her life until 2021, when she moved to Las Vegas. Olivia loves to hike, paddleboard and camp with her kids.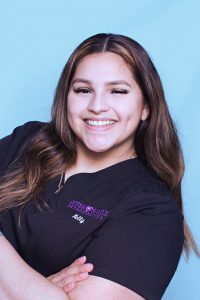 Kelly
Clinical Assistant & Scheduling Coordinator
Kelly joined us in January 2023. She graduated from the Northwest Career College dental assisting program in 2021 and is continuing her education there to graduate with an associate degree in health care administration. Kelly has worked in dentistry for some time now! She has assisted in general, pediatric and orthodontic care, and orthodontics is her favorite. Seeing smiles transform and people gaining back their confidence is what makes her job rewarding. Kelly likes how our team always supports each other by working closely together and how we always have a good time. She helps us succeed by coming to work with a positive attitude, ready to work and help people smile.
Kelly is happily married, and she has two healthy baby boys. Her hobbies include spending time with family, dancing, being outdoors and going off-roading.
Cathy
Registered Dental Assistant & Treatment Coordinator
Cathy joined our office in September 2021. She has her registered dental assistant license, coronal polish certification, radiology license and CPR certification, as well as over 20 years' experience in orthodontics. Cathy loves orthodontics because braces changed her life. The experience of seeing a patient get their braces off is the best part of her job! She tries to give 110% to customer service and believes that trying her best every day is what helps make the practice successful.
Cathy has two kids that are not kids anymore but are still the loves of her life! When she is not at work, she enjoys being with her family, hiking, walking and being outdoors.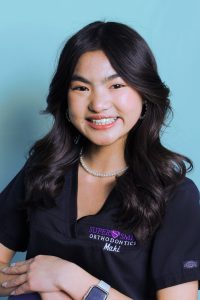 Maki
Sterilization Technician
Maki joined us in June 2022. She graduated from Northwest Career and Technical Academy in May 2023 and has plans to go to dental school in the future. She enjoys being around others and gaining hands-on experience. Maki loves being able to make patients feel comfortable with their smiles and helps our office by keeping it ready for the next day and assisting our team where needed.
Maki's hobbies include shopping, eating sushi and organizing.
Kaylee Flores is an orthodontist assistant at our practice, joining us in August 2023. She graduated from the College of Southern Nevada in May 2022, further sharpening her skills and knowledge. Kaylee finds great joy in being a part of our friendly and helpful team as well as having a fun and enjoyable work environment. Her passion lies in transforming patients' smiles and providing them with the guidance and support they need for improved oral health. Known for her strong work ethic, Kaylee goes above and beyond to ensure patient satisfaction. Outside of work, she stays active by going on hikes and embracing the beauty of nature.